Platinum Ecoschool
What is Eco-Schools?
Eco-Schools is a charity passionate about engaging young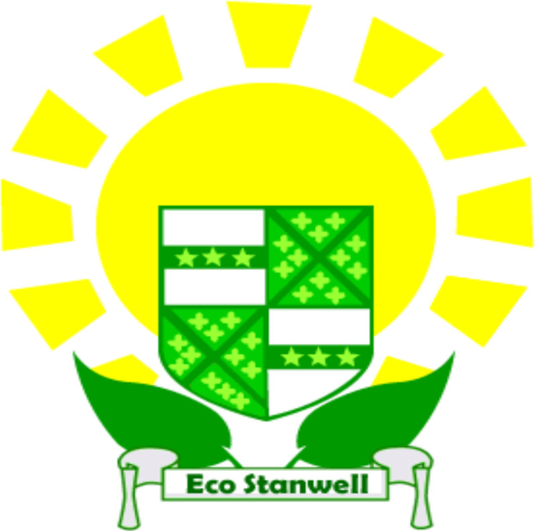 people in environmental education and action. This is done by following a seven-step framework that guides, empowers and motivates pupils to drive change and improve environmental awareness in their school, local community and beyond.
Eco-Schools was founded in 1994, operates in 70 countries and engages 19.5 million young people globally. This makes Eco-Schools the largest educational programme on the planet.
Eco Schools topic areas include: Litter, Waste Minimisation, Transport, Healthy Living, Energy, Water, School Grounds and Global Citizenship.
The Eco Schools International Green Flag is awarded to schools with high achievement in the programme. It is a recognised and respected eco-label for performance in Education for Sustainable Development.
About Eco Stanwell School
"At Stanwell we are incredibly proud to have been awarded our 3rd Renewal of the Eco Schools Platinum+ Award. This award showcases the passion and effort that Eco Stanwell members demonstrate towards sustainability and environmental development"
Here at Stanwell, our aim is to excel at promoting environmental awareness both within the school and the wider community. We encourage respect for the environment throughout all aspects of school life.
We are called Eco Stanwell to reflect our dedication to our environmental aims and code of practice. Eco Stanwell's members are supported from every year group demonstrating the strength and commitment to the initiative.
---
We received our first Green Flag back in 2005 after months of hard work by pupils and teachers, becoming the first secondary school in the Vale of Glamorgan to do so. After many years of continued diligence, we now hold the Platinum + 'Green Flag Award', which has recently been awarded for the 3rd consecutive time . This award really demonstrates Eco Stanwell's dedication to promoting and working towards a more sustainable future for us all.
Eco Stanwell continues to implement the 3 Rs: "Reduce, Reuse, Recycle" within the school and is now working closely with the ESDGC groups and Healthy Schools' team to achieve our goals in other areas such as encouraging active travel and healthy living, improving our school grounds and developing global links.
---
Eco Schools Platinum+ Green Flag award. Awarded to Eco Stanwell April 2021 (3rd renewal)
---